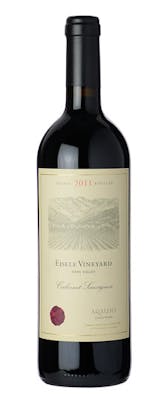 SKU: 1931
Araujo Estate Cabernet Sauvignon 2011
---
---
The Eisele Vineyard terroir showed its pedigree in 2011. This Cabernet is vibrant and fresh, layered with distinctive minerality and nuance. The ethereal tannins are simply melted throughout, supporting a delicious texture and prolonged by a lingering finish. The 2011 Eisele Vineyard Cabernet combines deep energy and elegance with a sense of restraint, providing great pleasure even at this early stage of its life.
Top 100 Wines of 2014* Compelling aromas of black fruits such as brambleberries, plus blueberries and fresh mushrooms. Asphalt, too. Forest fruits. The tannins just melt into the wine as you taste it. Aristocratic and regal in style and length. A powdery, fascinating texture. From biodynamically grown grapes. Drink now, but better in 2017.
Araujo has long made some of the more restrained Cabernets in Napa Valley. The 2011 Cabernet Sauvignon Eisele Vineyard is one of the more Left Bank inflected wines in the estate's distinguished history. Beautifully layered and expressive, the 2011 graces the palate with exquisite finesse and total harmony. The 2011 isn't a huge, explosive wine like the 2010 or 2009, but it stands out for its exceptional length and vibrancy. Readers should not expect an obvious Napa Valley Cabernet Sauvignon. I imagine the 2011 will still be marvelous at age 30, and I won't be surprised if it is one day regarded as one of the great, iconic wines of the vintage. The 2011 has been truly special since I started tasting the single blocks in the Spring of 2012. The blend is 94% Cabernet Sauvignon, 4% Cabernet Franc and 2% Petit Verdot.
The 2011 Cabernet Sauvignon Eisele Vineyard is simply beautiful. It is easily one of the most complete and compelling wines of the vintage. Rich, flashy and open, especially within the context of the vintage, the 2011 impresses for its depth and polish. Layers of blue and black fruit, savory herbs, mint and licorice come together in this complete Cabernet. A model of total class and elegance, the 2011 is simply remarkable for the year. This is one of the few wines of the vintage with real potential not just for the near-term, but also for the future. Anticipated maturity: 2015-2026.