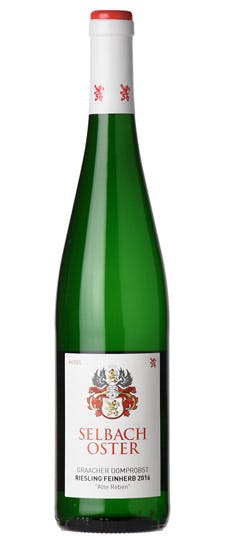 SKU: 2135
Selbach-Oster Graacher Domprobst Riesling Spätlese Feinherb "Alte Reben" 2016
---
---
Tasting Notes:
This old-vine Spätlese shares with its 2015 predecessor a slightly cheesy aromatic residue of fermentation, but that veil lifts enough with aeration to reveal a site-typical combination of apple and toasted nuts. The feel is flatteringly waxy and there is an imposing sense of richness, yet also welcome buoyancy. The long finish introduces green herbal pungency, apple seed piquancy and an undertone of wet stone, all of which beautifully complement the fruit and nuts.
Vinous - 91 pts - David Schildknecht - Jan 2018
The 2016 Graacher Domprobst Riesling Spätlese Feinherb Alte Reben (AP 23 17) is clear but still pretty reductive on the nose where smoky and ripe stone fruit aromas are displayed and intertwine with delicate herbal notes. Full-bodied, clear, lush, fresh, round and piquant, with crispy/crunchy tannins and stimulating salinity in the finish, this is a perfectly balanced and attractive Riesling with good expression and salivating purity.