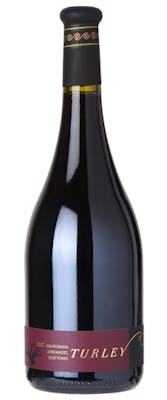 SKU: 162
Turley Old Vines Zinfandel 2019
---
---
Winery Notes:
Old Vines is composed of a variety of old sites from California that are either too small to be made into a vineyard designate wine or are "new" to the Turley family (and way of farming). Vines are anywhere from 50 to 130 years old, and a true representation of California old vine Zinfandel, hailing from vineyards in Napa, Sonoma, Mendocino, Lodi, Contra Costa, Amador and Paso Robles. There is no better way to gauge the classic character of old vine Zinfandel in California than through this wine.
Tegan has called this vintage one of the best he's seen in a long time. Silky, structured, savory, and seriously satisfying, this wine has kind of natural depth, complexity, and grace that can only come from truly old vines. The full gamut of fruits and a satin-like texture, the Old Vines overdelivers, and will continue to do so for many years to come. Ready to enjoy immediately at cellar temperature, around 55-65ºF.
The 2019 Zinfandel Old Vines has a medium ruby-purple color and bright, inviting red and blue berry fruits laced with notes of apricot and dried flowers. Medium-bodied, the palate is silky, soft, super fresh and approachable with understated but pure fruit character. Lovely! 11,380 cases produced.
The 2019 Zinfandel Old Vines is laced with the essence of black cherry, plum, spice, leather and licorice. Deep and juicy, but in the mid-weight style of the year, the 2019 hits all the right notes. The Old Vines is a blend of 26 different sites. Best of all, it's a steal at $25 a bottle.