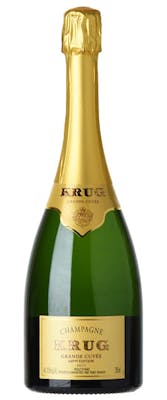 SKU: 607
Krug Grande Cuvee 168th Ème Édition Brut Champagne
---
Unavailable
We're sorry, but this product is not currently available.
---
Producer Notes:
Over 20 years are needed to craft each bottle of Krug Grande Cuvee, created beyond the very notion of vintage to offer the most generous Champagne in the world with exceptional finesse. As you taste it, notes of hazelnut, toasted bread, nougat, barley sugar, and jellied fruits may take you by surprise. You may even taste hints of apples still on the tree, flowers in bloom, ripe and dried fruit, almonds, marzipan, gingerbread, sweet spices and even brioche and honey. You may also notice its exceptional freshness in the mouth, with rich and tangy flavors of lemon and grapefruit enhanced by the subtlety of its fine and elegant bubbles. Krug Grande Cuvee can age beautifully.
Krug Grande Cuvees fullness is such that everyone can find something in it to stir their emotions. Its generosity also means that it lends itself to to a plethora of culinary combinations, from the simplest to the most sophisticated, from an extra mature Parmesan to a dish of turbot a la truffe.
52% Pinot Noir, 35% Chardonnay, 13% Pinot Meunier. A gentle gold with discreet yet persistent mousse and aromatics of spring meadows, lemon sherbet and barley sugar; the wine is pure and softly powerful, youthful energy finely poised, somewhat cautious after so many years in the chalky cellars. The reserve wines, Pinot Noir from Verzenay and Chardonnay from Avize especially, are subtle in support, vivacious despite their relative maturity, contributing to an ensemble which is hitherto dominated by red fruit, courtesy of the superb Pinot Noir, and a colourful tension. Behind that there are whispers of honey, quince and posset… and with so much more to come; but the finish, happily in these days of privation, takes one to wherever one may wish to go. Drinking Window 2020 - 2037
Krug's NV Grande Cuvée 168ème Édition is a classic in the making, wafting from the glass with aromas of dried fruits, pear, toasted nuts, orange zest, honeycomb and freshly baked bread. Medium to full-bodied, generous but incisive, it's deep and elegantly fleshy, with a beautifully refined mousse and an enveloping core of fruit that's complemented by the characteristic Krug patina of nutty complexity imparted by barrel fermentation. Even if this is more open out of the gates than the 2011-based 167ème edition, the 168ème edition is also the more concentrated and intense of the two. It's based on the 2012 harvest, complemented by fully 42% reserve wines—a blend of 198 wines from 11 different vintages dating back to 1996.
Krug's MV Grande Cuvée 168éme Édition is based on the 2012 vintage. Apricot, chamomile, lemon confit, hazelnut and lightly honeyed notes resonate in a super-expressive, inviting Grande Cuvée that will drink well right out of the gate. The natural radiance of the year comes through beautifully. This release is a blend of 52% Pinot Noir, 35% Chardonnay and 13% Meunier across a staggering 198 different wines from eleven vintages going back to 1996. Already quite expressive, the 168éme shows plenty of the signature Krug toasty notes in a style that offers tons of immediacy. Some recent releases have been more inward at this stage, but the 168éme is ready to go.