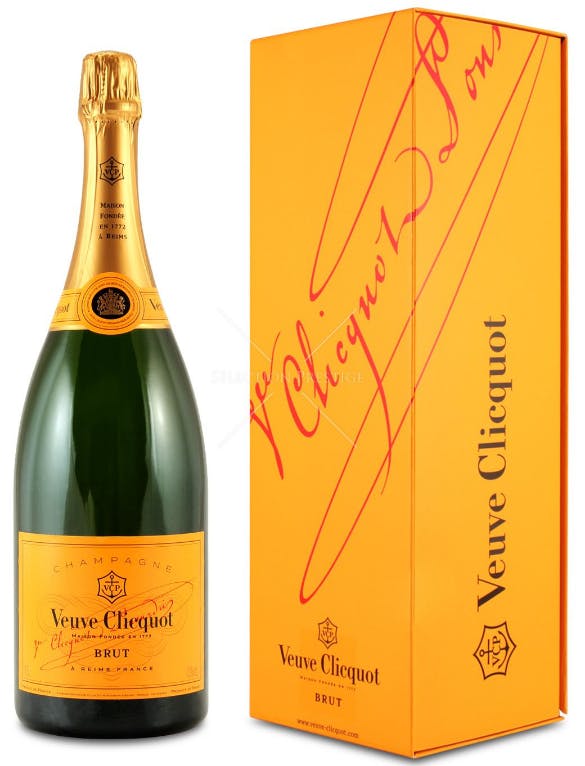 SKU: 262
Veuve Clicquot Yellow Label Brut Champagne
---
---
Tasting Notes:
Veuve Clicquot Yellow Label is the signature champagne of the House. Dominated by Pinot Noir, it offers a perfect balance of structure and finesse.
The House's signature Yellow Label is immediately pleasing on the nose while its complexity explodes on the palate. The initial notes of fruit are followed by more discreet aromas of brioche and vanilla. Yellow Label offers a perfect balance of finesse and forcefulness
Some oyster shell, berry biscuits, fresh strawberries and gently toasty brioche here. Lots to like. The palate is plump and flavorsome with plenty of berries and citrus intertwined. Good depth here. Grapefruit finish. Drink now.
This fresh and balanced Champagne is lightly toasty, with snappy acidity and a lively, creamy mousse carrying flavors of white cherry, pickled ginger and Marcona almond. Offers saline-laced minerality.
Veuve's 'yellow label' non-vintage Champagne is perhaps the region's most recognisable. It's a blend of around 50% Pinot Noir, 30% Chardonnay and 20% Pinot Meunier, from up to 60 different crus. The doughy base shows a hint of creaminess, layered with light and fresh flavours of lemon, orange peel, razor-sharp green apples and a steely, mineral finish. Quintessential Champagne and a great aperitif thanks to its light-footed style.