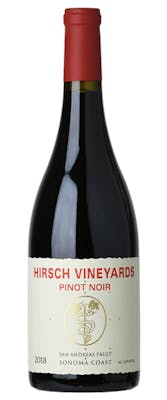 SKU: 1053
Hirsch Vineyards San Andreas Fault Pinot Noir 2018
---
---
Winery Notes:
The San Andreas Fault is Hirsch Vineyards' signature Pinot Noir and is crafted to represent the entirety of this multifaceted vineyard. The 2018 San Andreas Fault has fruit from 45 distinct farming blocks. It is the flagship wine from Hirsch, and the wine that represents the summation of our complex vineyard.
The 2018 San Andreas Fault Estate Pinot Noir is charming and complex, with a captivating dark cherry nose with notes of licorice and baking spice. The tannins are gentle yet present, making this a perfect wine for both the impatient drinker and the collector.
Lots of pure fruit here with crushed strawberries, flowers, dried mushrooms and bark on the nose, following through to a full body with loads of ripe fruit and chewy tannins. It's an intense red with lots of fruit-driven character but, it's got freshness and energy. Give it another two or three years of bottle age. Try after 2022.
The flagship Hirsch Pinot Noir. Fresh flowers, sage and candy floss aromas lead to a spry and polished palate, with a soft but upright spine of red fruits through the core. Subtly nutty and powdery on the finish. Sourced from 28ha of Pinot Noir vineyards, with half coming from 30- to 40-year-old vines and the other half from from 20-year-old vines.
This is the producer's signature wine, made from dozens of distinct blocks on the wild, coastal property. Savory and structured, it shows a mix of cranberry, cassis and forest, with notions of sea spray that add to its saltiness and help to underline a thread of cardamom. This will do well to cellar.
The 2018 Pinot Noir Estate San Andreas Fault is bright and beautifully lifted in the glass. Crushed red berry, mint and white pepper give the 2018 striking aromatics presence. Medium in body, nervy and finely delineated, the 2018 has a lot going on. I would give it a few years to soften, as the tannins are a bit fierce today. Time in the glass brings out the wine's inner perfume and a real feeling of finesse that will only grow with time.
The 2018 Pinot Noir San Andreas Fault has a pale ruby color and alluring scents of licorice, forest floor, wild blackberries and mint, with bright touches of citrus peel. The palate is light-bodied with gentle grip and juicy, crunchy, earth-laced fruits, finishing long and delicate.