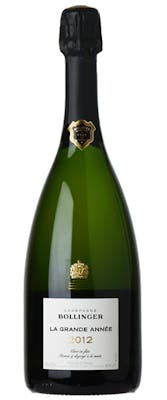 SKU: 2779
Bollinger La Grande Année Champagne 2012
---
Unavailable
We're sorry, but this product is not currently available.
---
Winemaker Notes :
At Bollinger, only very high quality harvests become a vintage: in 2012, the remarkable maturity of the grapes combined with a phenomenal acidity have produced a wine of infinite depth and allowed an exceptional vintage to be created. The delicate color and golden hues are a sign of the wine's maturity and Bollinger's wine-making methods. A wonderful aromatic depth. The wine's fruity, spicy and floral notes intertwine to reveal a highly complex nose; wild peach, plum and orange peel precede saffron and tonka bean, complemented by a fresh, mineral aspect. Dense and harmonious in the mouth. A creamy effervescence and fresh structure, with a gentle saline finish.
La Grande Année is the perfect champagne for gourmet food, such as seared scallops, scallops tartare, chicken in a light creamy sauce or grilled lobster.
This goes from zero to 60 right out of the gate, with an intense spine of acidity driving tightly meshed flavors of crushed black currant, ground coffee, candied grapefruit peel and toasted almond. The profile expands on the palate, carried by the fine, raw silk–like mousse. Richly aromatic and expressive from start to lasting, spiced finish.
Disgorged in July 2019, Bollinger's 2012 Brut La Grande Année is showing well, offering up an incipiently complex bouquet of crisp yellow orchard fruit, fresh peach, orange oil, toasted walnuts and dried apricot that's still quite reserved with less than a year on cork. Full-bodied, deep and muscular, the 2012 is blockier and broader-shouldered than its 2008 predecessor, with a weightier and even more concentrated palate built around a bright spine of acidity, concluding with a chalky finish that carries appreciably dry extract. This isn't quite as elegant as the exquisite 2008, but it is a superb effort and obviously built to age.
The 2012 Grande Année is vibrant and wonderfully nuanced. Citrus peel, orchard fruit, brioche, dried flowers and chamomile are all finely knit in a Grand Année built on energy and persistence more than size. Readers will find a restrained Grand Année in 2012. There is plenty of the textural richness that is such a signature of the house style, but I am also struck by the wine's freshness. Best of all, the 2012 will drink well right out of the gate. It is quite expressive today, even in the early going.