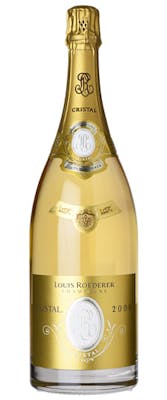 SKU: 2043
Louis Roederer Cristal Brut Champagne Magnum 2009
jd

97

we

97

js

97

d

97

v

96

wa

95+

ws

95
---
---
Winemaker Notes :
In 1876, Tsar Alexander II - already a great lover of Louis Roederer wines - asked Louis Roederer to "take the exercise still further" and create a cuvée for his personal use which was unique, in terms of both its style and the bottle. So Louis Roederer offered him an exceptional crystal bottle, holding the fruit of vines selected from the seven great crus on his estate. The Chardonnay and Pinot Noir grapes provide the subtle, precise balance that has now become synonymous with the leading prestige cuvée of Champagne.
A yellow-gold color with mat and amber tints. Persistent, brilliant, fine and lively bubbles. A subtle bouquet, simultaneously discreet and concentrated. It releases notes of citrus compote and candied apricots and evokes the sweetness of honeysuckle. When aerated, notes of vanilla-edged cocoa bean emerge, with toasted hazelnut, hints of liquorice and even a touch of cinnamon. The palate is structured, energetic and sculpted. An initial dense, ripe and silky sensation is amplified by the discovery of a chalky, cherry freshness, a powdered, almost mentholated brightness. The feeling is delicate and ethereal, a succession of delicious and colorful textures perfectly integrated within the lightness and finesse of the wine... an invitation on a journey of discovery. The bright personality of Cristal then appears, simultaneously pure and sharp, in a finish focused once again on chalk, energy and grain.
The 2009 Cristal is a beauty, with incredible richness as well as elegance, which are the hallmarks of this cuvée. Always a rough blend of 60/40 Pinot Noir and Chardonnay from estate vineyards, it has a toasty, yet pure bouquet of stone fruits, rising bread, white flowers, and toasted bread, as well as a terrific sense of chalky minerality. While it's not built around sheer richness and power (à la Krug), it's perfectly balanced, has a fine, fine mousse, and shines for its class and purity. Bravo! It's going to keep for another two decades.
*Ranked #36 Top Cellar Selection of 2016* The latest incarnation of this famous Champagne now comes from Roderer's own vineyards, a good portion of which are run on biodynamic lines. This still-young wine has great depth and richness, a beautiful balance between ripe fruit and crisp texture that make it alive, crisp and bright. As it matures, it will deepen and become even more intense.
A very rich and full-bodied Cristal that harks back to 2006 or 1989 in style. It's round and rich, which underlies the ripeness of the vintage. Lots of dried-apple and pineapple character with bread dough and flan flavors. The bubbles are so fine you almost don't notice them. Very vinous style.
Translusent, shimmering gold indicates a wine of poised ripeness; beautiful scents of orange blossom merge with sense of great chalky terroir. The purity and sublime texture of the mouthfeel owes a lot to non-malolactic winemaking which maintains freshness after the uninterrupted warmth of summer to harvest end. Also it also shows the essential true fruit now and for 20 years to come. Long lingering finish. A great supremely elegant Champagne.
Rich, creamy and radiant, the 2009 Cristal captures all of the natural generosity of the vintage while also retaining a good bit of freshness and aromatic intensity. Immediate and totally sensual in its allure, the 2009 will drink well with minimal cellaring. All things considered, at this stage, the 2009 comes across as relatively restrained for a wine from a warm year.
The 2009 Cristal is a blend of Grands Crus from the Montagne de Reims, the Vallée de la Marne and the Côte des Blancs (a total of 33-34 parcels of which 40% were farmed biodynamically). Like the 2008 Cristal, the 2009 also blends 60% Pinot Noir with 40% Chardonnay, and 16% of the wine was vinified in oak casks. No malolactic fermentation was done. The 2009 was aged for six years in the cellars and was disgorged in March 2016 with a dosage of eight grams per liter. Released two years ago, the 2009 is just starting another, more "Burgundian" life. Tasted in May 2018, the bouquet was pretty reductive, with flinty and toasty/nutty notes and some potted ginger flavors. Full-bodied, round and rich on the palate, this is a stunningly pure, fresh and salty 2009 that is driven by its chalky terroir and the lingering salinity. Is it really 2009? It is ripe, yes, but driven by the strength of chalk. The finish is pure, clean, fresh, very complex and long yet delicate and endlessly salty. However, two years after disgorgement, the 2009 Cristal is closing down and in a pretty reductive stage right now.
*Collectibles* White peach and acacia blossom aromas accent the flavors of poached apple, gingersnap biscuit, pastry cream and spun honey in this harmonious Champagne. The satiny mousse caresses the palate, while firm, focused acidity drives the lasting finish.