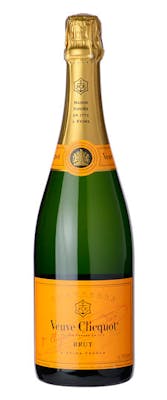 SKU: 262
Veuve Clicquot Yellow Label Brut Champagne
---
---
Winemaker Notes:
Veuve Clicquot Yellow Label is the signature champagne of the House. Dominated by Pinot Noir, it offers a perfect balance of structure and finesse.
First, Veuve Clicquot Yellow Label looks beautiful: golden-yellow, with a foaming necklace of tiny bubbles. Next it is so pleasing to the nose: initially reminiscent of yellow and white fruits, then of vanilla and later of brioche. Note the fine balance between the fruity aromas coming from the grape varieties and the toasty aromas, the result of the three years of bottle aging. The first sip delivers all the freshness and strength so typical of Veuve Clicquot Yellow Label with a symphony of fruit tastes following (pear, lemon). Here is a true member of the Brut family, well structured, admirably vinous. The lingering aromas echo and re-echo, with each fruit or almond notes distinct. Veuve Clicquot Yellow Label manages to reconcile two opposing factors - strength and silkiness - and to hold them in perfect balance with aromatic intensity and a lot of freshness.
This consistent power to please makes it ideal as an apéritif, and perfect as the champagne to enjoy with a meal.
Lemony richness on the nose, a struck match character that falls in with lemon vanilla note. Toffee apple allure on the palate with chalky coolness & savoury nutty finish.
Some oyster shell, berry biscuits, fresh strawberries and gently toasty brioche here. Lots to like. The palate is plump and flavorsome with plenty of berries and citrus intertwined. Good depth here. Grapefruit finish.
A crisp and lacy Champagne, with a hint of smoke underscoring flavors of poached apricot, pastry cream and pickled ginger. An overtone of Mandarin orange peel ties it all together.
One of the most popular of all Champagnes, this is now showing a freshness that wasn't always there. The crisp texture and green-apple flavors give it an immediate drinkability as well as perfumed acidity and a vibrant aftertaste.
(roughly 50% pinot noir, 30% chardonnay and 20% pinot meunier; Lot 14009913): Light gold. Musky orchard fruits and dried fig on the mineral-accented nose. Fleshy and broad on the palate, offering smoky pear and nectarine flavors and a hint of honey. Finishes on a gently spicy note, with very good cling and a touch of bitter lemon pith. Things have definitely begun to turn around for this bottling, which had been lagging behind the winery's vintage offerings for some time.