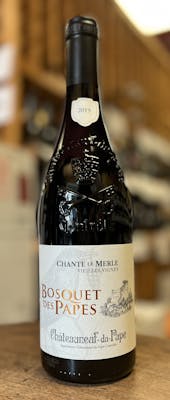 SKU: 1410
Domaine Bosquet des Papes Chante le Merle Vieilles Vignes Chateauneuf-du-Pape 2019
---
---
Winemaker Notes:
Bosquet des Papes Chateauneuf-du-Pape Cuvee Chante Le Merle is a nice shiny red color with dark purple highlights. The nose is complex. This very aromatic Chateauneuf-du-Pape is elegant and long in the mouth. A powerful wine with a cellar potential for many years.
This powerful wine perfectly matched with jugged hares, game, and truffled omelets.
Moving to the old vine cuvée, which is a blend of 85% Grenache and 15% Mourvèdre, the 2019 Châteauneuf Du Pape Chante Le Merle Vieilles Vignes reveals a deeper ruby/purple color as well as a richer, slightly more powerful bouquet of blackcurrants, jammy black cherries, roasted garrigue, black licorice, and assorted background notes of spicy meatiness. It's full-bodied and has a beautiful mid-palate, building tannins, and a great finish. This is another classic yet ripe, pure, and beautifully balanced wine from this estate that will benefit from 2-3 years of bottle age and keep for 15+ years or more. Built like an NFL linebacker, Nicolas Boiron is nevertheless a gentle giant and produced a bevy of brilliant wines in 2018 and 2019. While many estates stick to a single style (whether that be modern, traditional, etc.), the wines from Bosquet des Papes span the full spectrum. His classic cuvee and the old vine Chante Le Merle releases are classic, old-school Châteauneuf du Pape, his A La Gloire de Mon Grand-Père is more quasi-modern in style with partial destemming and aging in demi-muids, and his La Folie cuvee is full-on modern with destemming and plenty of new oak. Regardless of the style, the quality is brilliant, and these are beautiful wines. In addition, while I used to find a certain rusticity in the tannins in these wines, today, these wines show considerably more elegance and purity.
Steeped plum and cherry compote notes are the main marker here, though chestnut, sweet bay, singed alder and tobacco flavors all make their presence known. Tar and licorice root accents underline the finish, giving this a toothy, old school edge. Rock solid, throwback-styled Châteauneuf-du-Pape.

Are you 21 years old, or older?