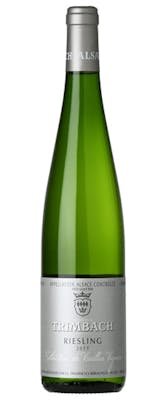 SKU: 1055
Trimbach Sélection de Vieilles Vignes Riesling Alsace 2017
---
---
Tasting Notes:
Once poured, the first thing that hits your nose is a blast of mineral intensity. Smoky flint, chalk, and lemon zest drive the aromas, with hints of Japanese yellow plums, sage, and fennel.
On the palate, there's an aristocratic austerity—the wine is driven by umami minerality more than fruit—with accents of white peach and plenty of lemon zest. Resolutely dry on the finish, it lingers for minutes.
#2 Wine of 2020 Enthusiast 100 Editors' Choice Initial smoky notes of reduction make way for a pervasive, subtle but luminous lemon freshness on the nose of this wine. The palate shows exquisite concentration in lemon freshness. It's bone dry, vivid and fresh.
Solid white with density and searing dryness and minerality that is very impressive with sliced apples, lemons and white peaches. Super energy.