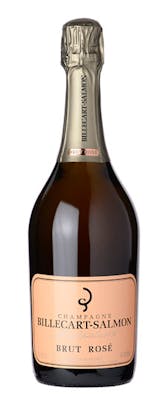 SKU: 3021
Billecart-Salmon Brut Rosé Champagne
---
---
Appearance: Its pale and bright pink colour is adorned with warm glints of gold and its delicate slowly rising bubbles give it a persistent mousse. Aroma: This cuvée unveils a subtle aroma leading to an elegant, delicate bouquet of fine notes of red fruits and zest of citrus fruits. Palate: Its special method of vinification gives this cuvée a light, elegant flavour, followed by a fresh finish with a taste of raspberry. Serving: This rosé champagne is an ideal partner as an aperitif and can also accompany a dish of wild salmon or sushi. For dessert, it will add a sublime touch to red fruit flavours.
Cinnamon and dried nutmeg add to the experience of bread dough and rose petals. Flavorful on the medium-bodied palate and finely poised with bright acidity. Medium-long on the finish.
Gentle red fruits rise from the glass. In the mouth it's attractively bright and youthful, with citrus and cranberry notes.The very fresh acidity and primary fruits give way to autolytic notes and cappuccino with time, followed by a long, savoury, saline finish.
The palest of rosés, this is an elegant, structured wine. Its dryness is balanced by the fine apple and red-currant fruits and the strong sense of minerality. Fragrant and lightly structured, this fine bottling is ready to drink.
Lacy in texture, with sleek acidity, this well-knit rosé Champagne offers delicate notes of blood orange glacé, pickled ginger and oyster shell, revealing a rich hint of grilled nut. The firm, almost crunchy finish is nicely spiced and lingering.
The latest release of the NV Brut Rosé is based on the 2015 vintage and was disgorged with 8.5 grams per liter dosage. Bursting with aromas of red berries, freshly baked bread, pomelo and peach, it's medium to full-bodied, ample and fleshy, with racy acids, pretty fruit tones and a youthfully frothy mousse.